Amik Guerra Lig-Long was born on May 11, 1973 in Havana, Cuba, where he also grew up and finished successfully his studies in the "Escuela Nacional de Instructores de Arte".
Amik Guerra has made his reputation with a combination of skill in trumpet, percussion an arrangement.
After leaving Cuba in 1994 he worked and traveled from Italy, Torino.
In 2005 he left Italy and moved to Switzerland, Zurich and now he is living in the Principality of Liechtenstein and still traveling all the world.
He is among the most prominent jazz trumpeters of the modern era in Europe, and a very well-known instrumentalist in latin music and playing with bands/musicians like Horacia 'El Negro' Hernandez ITALUBA, and Rodrigo y Gabriela C.U.B.A to name just a few.
Collaborations:
Billy Coban
Horacio Hernandez "El Negro" and Italuba
Septeto Nacional de Ignacio Piñero
Celia Cruz
Oreste Cachao Lopez and the Mambo Masters
Jimmy Bosch
Afro Cuban All Stars
Buena Vista Social Club
Tony Martinez and The Cuban Power Latin Jazz (together with Gonzalo Rubalcaba)
The New York Salsa All Starsr (together with Josè Alberto el Canario,
Jimmy Bosch, Giovanni Hidalgo, Dave Valentin and Alfredo de la Fè)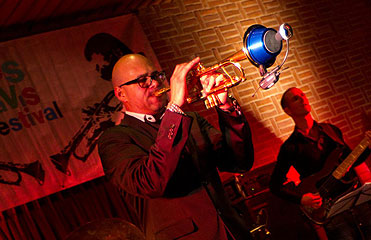 Mercado Negro & Tito Nieves
Albita Rodriguez
Bodan Art Orchestra
Cheo Feliciano
Lariba
Picason
Croma Latina
Big Band Liechtenstein
Tito Nieves
Rey Ruiz
Rodrigo y Gabriela & C.U.B.A
Orquesta Gali
Nubya
Live from Buena Vista-The Havana Lounge
Lolita
and many more…
Amik Guerra is an exclusive Adams Artist, Muirhead-Wallace Mutes, Protec Cases and SD Systems Microphones